Humane Education extended to 5 counties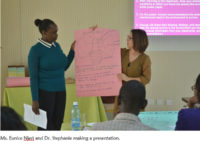 A 2-day course in International Certificate in Humane Education (ICHE) took place in five Counties namely Nairobi, Kiambu, Makueni, Kajiado and Machakos from January 22 to February 2, 2018 with 50 teachers in attendance.
This is a follow up to the continuing roll out of the 'Promoting Animal Welfare in Schools (PAWS) Program' that has this year heightened its focus – that of empowering teachers with better understanding of humane education so that they can efficiently pass it on to the 'waiting' pupils. A plethora of activities have been lined up to achieve the setout mandate of the PAWS Program by end of December this year.
Having undergone intense sessions of capacity development, it is important to note that, the training also acted as a transitioning period, laying ground for Ms. Susan Mwai, Certified Humane Education Specialist to take a lead role in training key stakeholders on humane education, laying much emphasis on training more teachers on PAWS Program in Kenya. The mantle was passed on to her from Dr. Stephanie Itle-clark, curriculum developer (ICHE) based in the USA who happened to be present throughout the training.
The 2-days sessions of the ICHE Course, were part of a bigger 5-day course intended to be completed within the same 5 counties in November this year.
Dr. Stephen Albone, Director of Education program in SPANA graced this phenomenal activity that came at the wake of the introduction of a whole new curriculum of education in Kenya. Teachers commended this great activity that was freely offered to them pointing out that they were now well equipped to develop learner-centered lesson plans through integration of humane pedagogy in their normal lessons.
The main objective of the training was to instill to the teachers the full definition of Humane Education, which is basically encouraging kindness and empathy and the understanding for the need of compassion and respect for people, animals and the environment and understanding that these three components are interconnected. The long-term goal is to develop values and attitudes that lead to prosocial behavior.
Teachers are now down to work as they eagerly await the second part of the training, later in the year.