Save Nairobi Park Campaign Updates
Published on May 24, 2017
Topic: Varsity Student Unite Against SGR through the Park.
https://www.standardmedia.co.ke/ktnnews/video/2000129361/-environmental-students-hold-demonstrations-over-sgr-passing-through-nairobi-national-park
Latest ANAW Media Mentions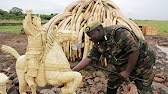 Kahindi Lekalhaile, Director of Public Affairs - ANAW offers some views. Watch Video here...
Published on Apr 25, 2016
Topic: All set as Kenyans prepare to burn 105 tonnes of Ivory. Read more via http://www.capitalfm.co.ke/news/2016/...